Newport & Penkridge Tae Kwon Do Club have recently had their grading's. There are 8 children from NJS who participated and who all passed. They have been presented with their certificates and new belts.
William Buckland 3B, Lewis Ingman 4F, Noah Owen 4F all got their yellow stripe belt, Toby Middleton yr 3 and Alex Klos 4F got yellow belts, Amelia Jarrett 4F and Alfie Hodson yr5 got their green strip belts and Oliver Cowap-Cerrone 4F got his blue strip belt.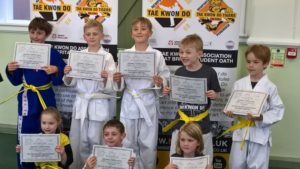 Well done to all children involved!