A fantastic battle has been seen on TTRS on Tuesday.
I asked you to compete boys vs girls and what a battle it was!
With some amazing scores from both teams! And a fantastic increase in players from all classes, I am very happy to announce the winners are the Girls!
A fantastic effort from all!
Next week the battle continues! We will be competing against year 6 between Monday 9am and Wednesday 12pm. Keep up the practise over the weekend because as some will know, I really like beating year 6 (and Mr J!).
Well done to all who participated!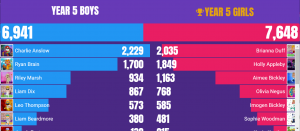 All the best,
Mr L